Royal Wedding Products Trending in UK Markets
Jun 21, 2018
As soon as the royal couple Prince Harry and Meghan Markle's wedding was announced, the markets in the UK got flooded with royal wedding products. Different companies rolled out unique and specially designed things based on the royal wedding theme. Every royal wedding comes with its own sort of collectible products. It is said the trend became common after Princess Diana and Prince Charles wedding. From condoms to coffee mugs Britain went gaga about the wedding:
• Harney & Son's royal wedding tea
@via
Tea Company Harney and Sons introduced their 'Royal Wedding Tea' just before the Royal couple's wedding. The white tea blend comes with pink rosebuds in a yellow colored tin that adds a classic look to it.
• Crazy swimwear
@via
Customers went crazy about everything that has the royal couple on it and this quirky swimwear has Harry and Meghan's photo on it.
• Crown jewels condom
@via
Well, Britain did not leave anything; they launched a pack of premium condoms with Meghan and Harry's photo on it. Isn't it crazy?
• Ample hills ice-cream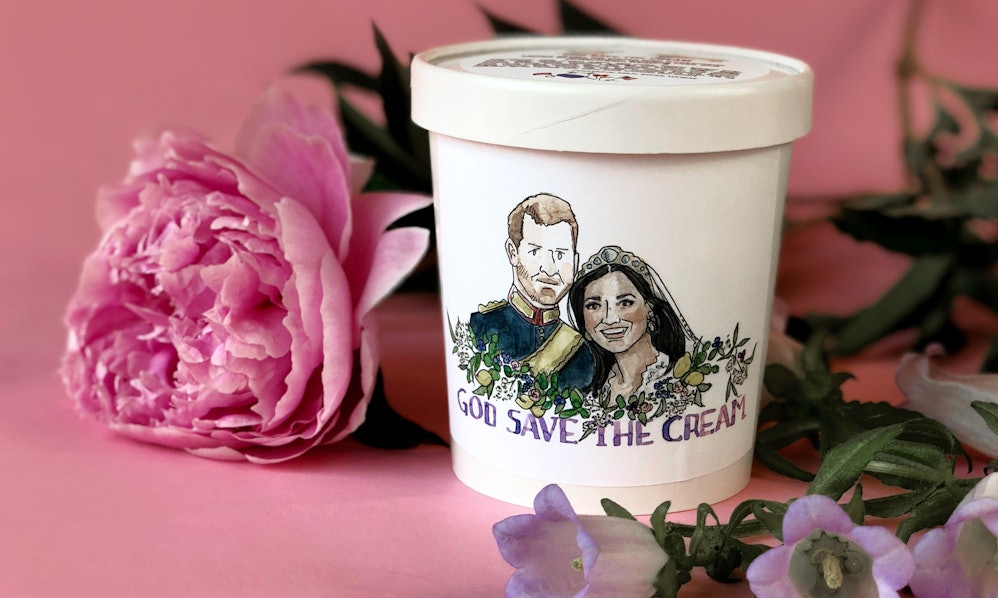 @via
The Brooklyn based ice cream company introduced a unique official ice cream flavor created in the honor of Royal couple. It's made with pieces of elderflower cake and butter cream frosting with lemon and ginger cream.
• Royal wedding tea towel
@via
Tea towels are a traditional British way to celebrate special occasion and it couldn't get more special than this. The towels are made with original designs printed on the finest cotton
• Royal donut
@via
Just before the royal wedding Dunkin Donuts came up with a Royal love donut to honor Prince Harry and Meghan Markle. It is the heart-shaped Donut filled with jelly and topped with chocolate and strawberry drizzle.
What do you think ?